The Violence of Development website has reported on the struggles of the Guapinol water and environment defenders on numerous occasions in the past. Now, further to our reports on mining-related assassinations in Guatemala and Honduras and specifically in the article entitled 'In Honduras, the killings continue', here we tragically have to report on the assassination of Oqueli Dominguez, one of the Guapinol human rights defenders. We reproduce here extracts from the notification of Oqueli's murder by Rights Action, a US/Canadian human rights organisation that focuses especially on abuses of communities and environments by US and Canadian transnational mining corporations. We are grateful to Rights Action for their generalised permission to use their material.
 Rights Action, June 19, 2023
https://mailchi.mp/rightsaction/oqueli-dominguez-killed-in-honduras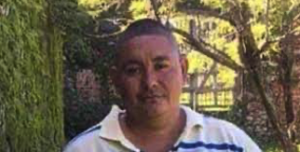 On June 15, 2023, yet another Guapinol human rights defender was killed, deadly repression that is linked to the mining interests in Honduras of Nucor Corporation (the largest U.S. steel producer).
With many indications it was a planned assassination, the attack and killing occurred at 10:30am at the family's house, carried out by two armed subjects riding a motorcycle. Honduras Now (@HondurasNow) tweeted that Catalina Ramos, Oquelí Domínguez's mother, was also injured in the attack. The hitman opened fired on their house. Ramos is currently receiving medical attention for her injuries. Oquelí (shown here) was 42 years old.
The Municipal Committee in Defence of Commons and Public Goods of Tocoa decries the murder of Oquelí Domínguez, older brother of Aly Domínguez (murdered on January 7), younger brother of Reynaldo Domínguez, a land defender recognized internationally in the Guapinol struggle for territory, water, and environment.
Oqueli is a member of the Comité Municipal de Defensa de los Bienes Comunes y Publicos de Tocoa, and his family is one of the most prominent in the struggle of the community of Guapinol for the defence of the Guapinol and San Pedro Rivers.  His older brother, Aly Dominguez, was murdered on January 7th 2023 and his younger brother, Reynaldo Dominguez, was criminalized, deprived of liberty and has suffered threats and assaults for years."
Now, two brothers from the same Guapinol family have been murdered. The third brother –Reynaldo – was one of close to 30 Guapinol land defenders jailed – some for over 900 days– under trumped up criminal charges.
When will mining-linked crimes and repression against the residents of Guapinol and the municipality end?
---
Rights Action cites the following references as giving the necessary background to understanding the case of the Guapinol defenders.
The Struggle to Defend Water in Guapinol
Honduras Now Podcast, Jan. 15, 2021, https://www.hondurasnow.org/episode-14-the-struggle-to-defend-water-in-guapinol/
Hidden connection between a US steel company and Los Pinares mine in Honduras
By Jennifer Ávila and Danielle Mackey, Univision, November 9, 2020, https://www.univision.com/univision-news/latin-america/the-hidden-connection-between-a-us-steel-company-and-the-controversial-los-pinares-mine-in-honduras
The Guapinol community, on the country's north coast, has become militarized in an effort to defend the river that supplies it
By Nina Lakhani, The Guardian, 6 Oct 2020, https://www.theguardian.com/environment/2020/oct/06/how-honduras-became-one-of-the-most-dangerous-countries-to-defend-natural-resources
More information
Karen Spring, Honduras Now
https://www.hondurasnow.org/; https://twitter.com/HondurasNow