Key words: Guna Indigenous People; mola designs; Nike; intellectual property rights.
The Guna Indians of the San Blas Archipelago of Panamá are famous for their tapestry designs that are used on their 'molas'. Molas are hand-made textiles that form part of the traditional women's clothing of the Guna. The full costume includes a patterned wrapped skirt (saburet), a red and yellow headscarf (musue), arm and leg beads (wini), a gold nose ring (olasu) and earrings in addition to the mola blouse (dulemor).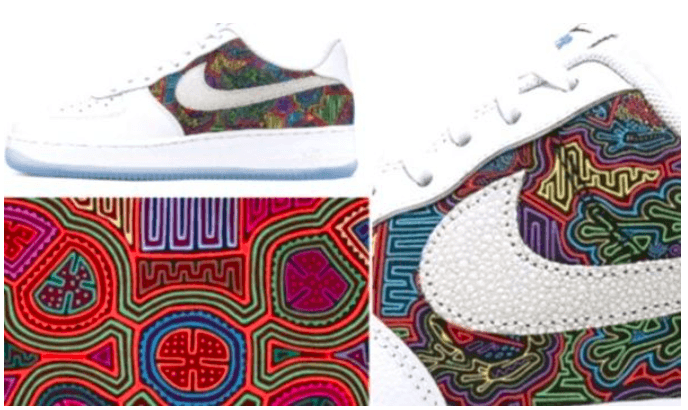 In the Guna language, 'mola' means 'clothing', and the swirling designs are coveted not just by artists all over the world but also by companies advertising their products and by the world of fashion. On sale in New York, items made up of combinations of mola squares are amazingly popular and pricey, whilst on the San Blas Islands they are the everyday component of towels, blankets, sheets, T-shirts, skirts and other textile items.
The transnational sportswear company Nike was preparing to release to the public a new trainer labelled 'the Air Force 1' which features a graphic design of the Puerto Rican native Coqui frog. The Guna people of Panamá, however, objected to the trainer's launch and pointed out that the design was based on the community's traditional 'mole' textile.
"We are not against our mola being commercialised. What we oppose is it being done without consulting us first," said Belisario López, a Guna leader. Lawyers for the Guna explained that the trainer was created without the community's permission, disregarding their intellectual property rights which are recognised in Panamanian law.
Various commentators on this matter have taken Nike to task for their poor research in believing that the design was Puerto Rican rather than belonging to the Guna. The trainer was due to be launched on 6th June this year, but in May Agence France-Presse reported that Nike had withdrawn the product and would no longer offer it, as they had planned, for $100.
The community is seeking compensation from Nike.
Sources:
Agence France-Presse, 22 May 2019, 'Nike ditches shoe design after Panama's indigenous Guna protest'
Telesur, 24 May 2019, 'Indigenous Guna Force Nike to Drop Shoe with 'Stolen Design'