In Chapter 9 of The Violence of Development website we try to represent the scale and nature of the threat of violence suffered by Central American people. Undoubtedly, out of the seven Central American countries, Honduras, Guatemala and El Salvador feature more frequently than the other four, but the following report of the assassination of Costa Rican indigenous leader Jehry Rivera makes it clear that rights activists throughout all the Central American nations are vulnerable as targets if they try to defend their rights and object against the interests of the powerful.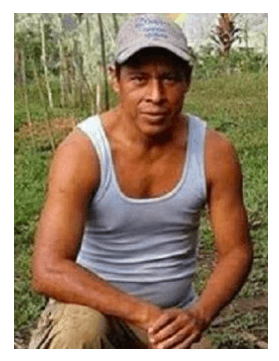 Jehry Rivera Rivera (shown right), an indigenous leader from Térraba in southern Costa Rica, was shot dead in February this year. His murder shocked Costa Rica and is associated with land disputes between the Terribe indigenous people and land owners. The Terribe were occupying and reclaiming land used by ranchers.
The assassination took place in an area in which the Inter-American Commission on Human Rights (IACHR) had issued protective measures for the indigenous population as a result of the constant threats they had been receiving from land owners who were seeking to appropriate their territory.
Rivera's assassination occurred almost a year after the attack on another Costa Rican indigenous leader, Sergio Rojas, who was also killed by hitmen despite protective measures that had been issued for him.
The Costa Rican Federation for Environmental Conservation (FECON) suggested that
"this crime against the indigenous rights defender Jehry Rivera splashes with blood the hypocrisy of the Costa Rican state, which claims to protect human rights, but its policies leave all indigenous peoples abandoned and forgotten. Although Costa Rican legislation recognises these lands as part of the indigenous territories, governments do not apply the law. They protect the interests of racist groups."
Human rights defenders also criticised the Costa Rican corporate media for its negative reports on land recoveries carried out by indigenous peoples. The media ignore the fact that companies have been invading and appropriating indigenous territories for years. Many journalists even encourage violence against those attempting to recover their land.
Representatives of the affected communities claimed that the inaction of the government enabled the violence and gives impunity to those committing the violence.
Our contacts in the village of Longo Maï in the south of Costa Rica have provided us with some background information on indigenous issues in Costa Rica related to this case and this was translated for us from the original German by Kerstin Hansen.
Indigenous peoples make up about 2 per cent of the Costa Rican population (approximately 100,000 people) and there are 24 indigenous territories and 8 indigenous ethnic groups in the country.
The biggest problems in these territories are caused by megaprojects such as hydroelectric dams. In the south, invasions of indigenous territories have been particularly common: for instance, 88 per cent of the Terribe's territory is not occupied by the Terribe. In the China Kicha territory (which is very close to Longo Maï) this loss of land is even higher (97 per cent). Yet in 1977 a law was passed making it illegal to sell land in these territories, and this was reinforced by the United Nations ILO 169 declaration that was signed by Costa Rica.
For the last 40 years, however, practically all Costa Rican governments have failed to enforce the legal measures to ensure indigenous autonomy. In the last ten years indigenous peoples have therefore taken matters increasingly into their own hands to reclaim lands. In March 2019, one of their activists, Sergio Rojas, was killed by twelve bullets. A few days ago, Jehry Rivera was murdered in Térraba.
And the following statement from the village supports the views expressed above by Costa Rican rights defenders.
"This is proof of institutionalist racism, a relic of colonialism, and an unbelievably cynical discourse which presents this country as an ecologist's paradise to the outside world while failing to seriously protect ethnic groups who follow a model of ecologically sound agricultural practices and 'buen vivir'."
Sources
Telesur, 25 February 2020, 'Costa Rica: Jehry Rivera Dies While Defending Indigenous Lands'.
Telesur, 27 February 2020, 'Costa Rican Indigenous Denounce Government Inaction Regarding Murders'.
Franfurter Rundschau, February 2020, 'Indigenous activist murdered in Costa Rica'.
Roland Spendlingwimmer, 27 February 2020, personal communication.
Agencia Delfino.cr, February 2020, Untitled news release.