By Martin Mowforth, March 2021
The organised crime and drug trafficking syndicate of Honduras (also known as the government of Honduras) continues to promote tourist developments and other extractive industries throughout the country and to favour foreign investors, especially Canadian and US, over Honduran people. A particularly disadvantaged and threatened group is the Garífuna community based largely on the northern coast of the country, as articles in Chapter 8 of The Violence of Development website expose.
On 4th March this year two Garífuna rights defenders were assassinated in La Ceiba. They were Martin Abad Pandy and Víctor Martínez. Martin Pandy was President of the Garífuna community council, and both were members of the Corozal community. In February in the same area Fernando Padilla was also murdered by hired assassins. Two Garífuna environmental defenders, Jenifer Sarina and Marianela Mejía Solórzano, were also detained.
Pandy (shown here) was noted for his entrepreneurship through his small grocery store, his help for members of the community and for his work with Garífuna youths. Luther Castillo, a Garífuna rights activist, explained: "My Corozal village is once again a victim of organised crime, which has installed itself in sight of the security entities in the area. They cynically facilitate the criminality that murders our people, extorts our entrepreneurs, and plunders our resources."
Naama Ávila, a lawyer and defender of the Garífuna people, also described the response of the security forces as cycnical. She described the communities as living in fear because the foreigners who come and impose themselves on the community are soon followed by daily acts of violence. Ávila knew Pandy and said, "I am a witness of his love for the people, his work, his humility, and his desire to see Corozal move forward."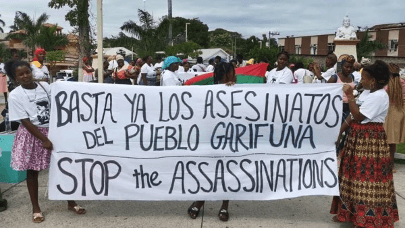 According to the Honduran Black Fraternal Organisation (OFRANEH), the two Garífuna environmental defenders were arrested on trumped-up charges of usurpation and damages to a real estate company whose origins are Canadian. Both of them are leaders of the community of Cristales whose land is under threat in the department of Colón and both are members of OFRANEH. In their initial hearing on 7th March, the judge denied access to national and international human rights organisations and the court was filled with army personnel and police which generated an atmosphere of hostility towards the community members who attended. This is and was a clear example of intimidatory criminalisation – see the article on SLAPPs (Strategic Lawsuits Against Public Participation) in the final section of Chapter 9 of this website.
On March 18, it will be eight months since the forced disappearance of the Garifuna Five, leaders of Triunfo de la Cruz, forcibly removed by a squadron in military fatigues. Since then, defenders of life have demanded the government give an explanation for Alberth Snaider Centeno Tomás, as well as Milton Joel Martínez Álvarez, Suami Aparicio Mejía, Albert Sentana Thomas and Junior Rafael Juarez Mejía.
Many suspect government complicity in the crime: the administration of President Juan Orlando Hernández, which until recently has been strongly backed by US administrations, is accused by activists of being behind "a well-crafted plan to exterminate the Garífuna community." Palm-lined and pristine, Garifuna territory has long been coveted by tourism developers and palm oil barons historically favoured by this government of organised crime.
In relation to these and many more crimes, OFRANEH urges the national and international community to come to the aid of the Garifuna community fighting for the defence of their ancestral territory and the protection of their rights as a distinct and at-risk people.
---
Sources
https://kaosenlared.net/honduras-tres-lideres-de-la-comunidad-afrodescendiente-garifuna-son-asesinados-por-sicarios-del-estado/
Telesur, 4 March 2021, 'Gunmen Kill Garífuna Indigenous Leader in Honduras'
Rights Action, 8 March 2021, 'Garífuna people between jail and grave – Two more killed'
http://www.web.ellibertador.hn/index.php/noticias/nacionales/2741-honduras-garifunas-entre-carcel-y-tumba-matan-otros-dos
Federación Internacional Por Los Derechos Humanos: 'Honduras: Criminalización de las defensoras garífunas Marianela y Jennifer Mejía Solórzano', available at: https://www.fidh.org/es/temas/defensores-de-derechos-humanos/honduras-criminalizacion-de-las-defensoras-garifunas-marianela-y
Vice World News, August 2020, '5 Black Men Kidnapped by 'Police' in Honduras Are Still Missing', available at: 5 Black Men Kidnapped by 'Police' in Honduras Are Still Missing (vice.com)