November 2018
Information from Peace Brigades International and the Central Campesina Ch'orti 'Nuevo Día' (CCCND), summarised by Martin Mowforth.
Key words: Indigenous and campesino groups in Guatemala; hydro-electric projects; mining projects; Maya Ch'orti community; criminalisation; assassinations of rights defenders.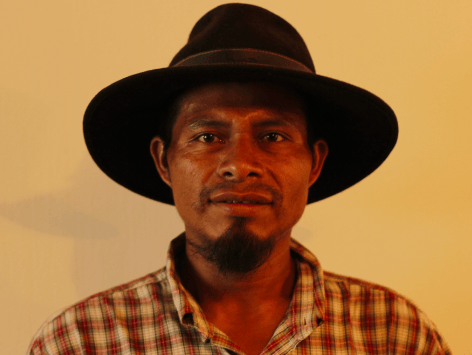 Domingo Vásquez, a Maya Ch'orti human rights defender from Guatemala, spent the first half of October on a Europe-wide speaker tour as a guest of Peace Brigades International (PBI). Domingo is a member of the Central Campesina Ch'orti 'Nuevo Día' (CCCND) and a member of the Indigenous Council of the Maya Ch'orti community of Pelillo Negro, Jocotán in Chiquimula department.
Domingo's visit follows that of Omar Jerónimo, also of the CCCND, in 2015. Their organisation supports community struggles to get recognition as indigenous communities and defends the ancestral Maya Ch'orti territory from hydro-electric and mining projects. Several hydro-electric plants are either planned or already under construction in the region. Omar and the struggles of the Maya Ch'orti against hydro-electric projects are also featured in the Interviews section of this website.
The recent security situation on the ground for CCCND members is extremely serious. So far this year 18 human rights defenders in Guatemala have been assassinated for the work that they carry out. Thirteen of these were land and environmental defenders. Many members of CCCND, including Domingo, face threats, attacks and criminalisation.
Recently Omar has had to go into hiding because of the seriousness of the threats he has received. PBI has provided protective accompaniment to the CCCND since 2009. Omar said "We have reports that ex-military personnel and gangs have arrived in our area. There have been 52 death threats in the last three months, 22 people have been criminalised, two people have been thrown in prison and 27 have been attacked. Over 20 of us have a price on our head. I have been told mine is $100,000, but I can be killed for $100. Last month my car was sprayed with bullets. We have been warned that the assassinations will go on. We are all scared, but you should not let fear stop you working in the community."