Contributed by Jiri Spendlingwimmer, Costa Rican anthropologist.
Translated by Liz Richmond, who contributed extra material.

In March this year we added to The Violence of Development website a report of the assassination of Jehry Rivera Rivera, an indigenous land defender in Costa Rica. We recently received news of the case from Jiri Spendlingwimmer, an anthropologist and resident of the village of Longo Maï in southern Costa Rica. We are grateful to Jiri and to Liz Richmond for extra information and for the translation.
Jehry Rivera was assassinated by several shots from a firearm on 24 February 2020 in the indigenous territory of Térraba, Buenos Aires, in the southern zone of Costa Rica. The previous night 150 to 200 non-indigenous farmers had organised and formed a mob to surround the town of Térraba, burned land, insulted, harassed and attacked a group of indigenous people who had recovered their ancestral territory. The following table summarises the acts of violence against indigenous people in the southern zone of Costa Rica around the town of Buenos Aires.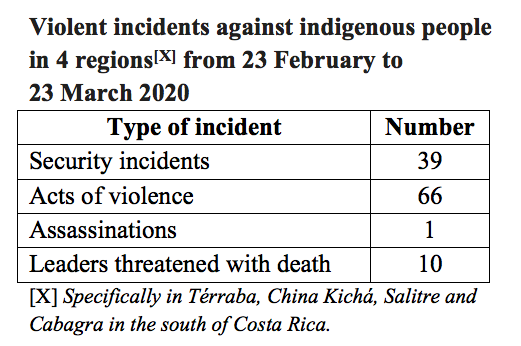 Given the incapacity and bias of the Courts of Justice of Buenos Aires, the judicial process for the murder of Jehry Rivera was assigned to a prosecutor in the capital, San José. It is expected that at some point a trial will be held. Today, however, there are no accused, nor a date for the start of the trial. The same impunity was evident regarding the murder of human rights defender and indigenous leader Sergio Rojas in Bribri de Salitre territory, assassinated in March 2019 – https://theviolenceofdevelopment.com/costa-rican-indigenous-rights-defender-murdered/ and https://theviolenceofdevelopment.com/following-murder-of-indigenous-leader-costa-rican-government-and-indigenous-groups-hold-talks/
Escalation of violence against indigenous land reclaimers

The Ditsö group in Costa Rica is a NGO that seeks to defend indigenous and campesino communities and to protect natural resources. Ditsö reports that between February and March 2020 there has been an escalation in violence against land rights defenders in four indigenous territories: Térraba, China Kichá, Salitre and Cabagra. The Cabécares indigenous people of China Kichá have suffered violent incidents including death threats, mob assaults, detonations of firearms, invasions in recovered land, fires, road blockades, physical assaults and chemical attack.
To illustrate the fact that these are not just recent tensions and incidents, it is worth recalling that in 2013 Jehry suffered a brutal attack for lodging a complaint regarding illegal felling of trees and deforestation in their territory – https://www.culturalsurvival.org/news/complicity-and-silence-taking-land-indigenous-peoples-costa-rica
The Costa Rican State, which is at the centre of national and international criticism, has had to make greater effort to try to settle the historical debt with the indigenous peoples and resolve the conflict. In China Kichá, in May 2020, direct intervention was necessary by the Deputy Minister of Public Security Eduardo Solano to guarantee the removal of livestock from a reclaimed farm and to calm the situation.