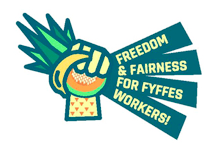 The following article focuses on banana production with an examination of the practices of the major importing company Fyffes. I am grateful to Banana Link for permission to reproduce extracts from their article which appeared in the Make Fruit Fair! Newsletter of 23rd January 2017.
 Key words: Fyffes; labour rights; tropical fruit production; fair trade; supermarkets.
The Make Fruit Fair! Campaign is calling on Fyffes – the number one importer of bananas to Europe, and among the largest global marketer for Supersweet pineapples and winter season melons – to respect the rights of workers in its global supply chains. Read more about the campaign below.
Serious abuses of labour rights in Costa Rica and Honduras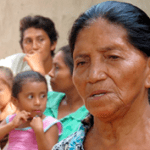 "They never contributed to social insurance and now I will not be able to retire or finally rest after so many years spent on the plantations. I have to continue looking for work to survive." – María Gómez (65) who worked for nearly 30 years as a supervisor at Melon Export SA.
Since the summer of 2015, the Make Fruit Fair! campaign has collected evidence of very serious violations of core labour standards at specific Fyffes' subsidiaries: ANEXCO in Costa Rica and Suragroh and Melon Export SA in Honduras, where a largely female workforce, reliant on temporary seasonal work, is particularly vulnerable.
These violations include: failure to pay minimum wages and social insurance (an estimated £2.5m in pay and social insurance have been withheld); exposure of workers to hazardous agrochemicals; failure to respect freedom of association including threats, harassment and sacking of union members; and blocking collective bargaining processes.
In the case of Suragroh, Make Fruit Fair partners Banana Link and the International Union of Foodworkers (IUF) have alleged breaches of the UK's Ethical Trading Initiative Base Code for failure to respect unions and pay living wages, and Fyffes has refused to participate in local mediation to remedy these.
 "I got pregnant, and they do not allow pregnancy" – Marys Suyapa Gómez, sacked for being pregnant after working at Suragroh for 15 years
The Honduran Labour Inspectorate has also found non-payment of minimum wages and other statutory benefits. Additionally, a 2015 report by the U.S. Department of Labour confirmed allegations that Suragroh failed to pay the minimum wage, among a lengthy list of other violations.
Workers are required to provide their own work equipment such as hoes, machetes and shoes, the costs of which can amount to an entire week's income.
Workers are also exposed to hazardous chemicals, many reporting headaches, sickness and high temperatures as a result, and report a lack of information about and training to avoid and be protected from the dangers of chemical exposure. In December 2015, about 100 women suffered poisoning, 14 of whom were hospitalised, after they were accidentally dropped off downwind of herbicide and chlorine spraying in an adjoining plot.
You can read more about working conditions at Suragroh here:
Meanwhile, at ANEXCO, dialogue facilitated by the Costa Rican Ministry of Labour has failed to provide a space in which local unions can negotiate with ANEXCO management and Fyffes, and the local unions report continued failure to comply with core labour standards enshrined in Costa Rican legislation.
The rights abuses at ANEXCO are the subject of an ongoing Make Fruit Fair urgent action launched in September 2015. The key demands of respect for labour rights and an end to harassment and discrimination against union members have yet to be met.
Both cases clearly illustrate that Fyffes is also in breach of OECD Guidelines for Multinational Enterprises for the failure to "Respect the right of their employees to be represented by trade unions".
"Fyffes in Honduras does not respect the fundamental rights of women workers; the majority of employees are women who have up to 26 years of work without social security rights or social benefits. We demand respect for freedom of association and collective bargaining." – Iris Munguía, Coordinator, COLSIBA (the Regional Coordination of Latin American Banana & Agro-Industrial Workers' Unions)
Banana Link and many of our partners from Europe and Latin America wrote to Fyffes Chairman, David McCann, in November last year asking him to take action to address these issues, but received no response.
Despite Fyffes' claim on its website that "if something isn't working, we change the way we do it", the company has failed to take responsibility in Costa Rica and Honduras.
No company, especially a company that professes to respect the UN Guiding Principles on Business and Human Rights, should benefit from the appalling abuses suffered by those at the bottom of their supply chain.
An alliance of civil society organisations and trade unions, including unions in Costa Rica and Honduras, are calling on Fyffes to ensure that local plantation management
ends the discrimination of union members at Anexco (Costa Rica) and Suragroh (Honduras)
recognises unions at both Anexco (Costa Rica) and Suragroh (Honduras) and engages in collective bargaining with these unions to provide opportunity for workers to be represented in negotiations on pay and working conditions on plantations.
We are also calling for shareholders and directors with responsibility for Fyffes
to establish and implement a global company wide policy to ensure the respect of workers' rights throughout its supply chains, including the right to join an independent trade union and for unions to engage in collective bargaining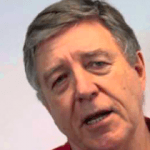 "Fyffes must take responsibility for ensuring that their local managements in Costa Rica and Honduras recognise and enter into good faith negotiations with local unions and that company-wide freedom of association and collective bargaining is respected at every level." – Ron Oswald, General Secretary, International Union of Foodworkers.
Fyffes and Fairtrade
Fyffes are a significant trader of Fairtrade certified bananas in the UK. The Fairtrade mark is given to individual products not entire companies or their business practices. In the case of Fyffes only some of their produce is Fairtrade certified – the produce from the Fyffes subsidiaries in Costa Rica and Honduras is not covered by Fairtrade certification. Although Fairtrade Trader Standards do place ethical requirements on Fyffes, these requirements only cover farms that are part of certified supply chains, not those on non-certified farms.
Fyffes and UK supermarkets
We believe that supermarkets have a responsibility for ensuring ethical standards are respected throughout all of their supply chains. Most supermarkets in the UK buy some, or all, of their bananas through Fyffes. We, therefore, believe that these supermarkets have a responsibility for raising our concerns about labour rights with Fyffes. We have contacted all the UK supermarkets and the majority have responded and are in dialogue with Fyffes. But two supermarkets – Asda and Lidl – have not responded to our communications.
Relevant websites:
Banana Link – www.bananalink.org.uk
Make Fruit Fair! – www.makefruitfair.org
Ethical Trading Initiative – www.ethicaltrade.org
International Union of Food Workers (IUF) – www.iuf.org
Fair Trade Advocacy Office (FTAO) – www.fairtrade-advocacy.org