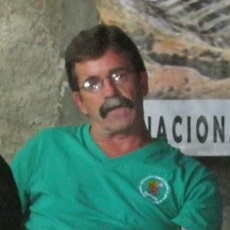 Interviewee: Brian Rude
Interviewer: Martin Mowforth
Location: San Salvador, El Salvador
Date: 7th February 2014
Theme: An informal interview about drugs, gangs and crime in Central America
Keywords: TBC
Notes: 
.
.
Martin Mowforth (MM): I'll just give an introduction; it is recording now. Brian, this is an interview for a website which is associated with a book. The book is called 'Violence of Development' and the website has the same title – the website will be live and the book published during March 2014. The reason there's a website with it was that I wrote well over 200,000 words for this book, but in order to get it published, I had to bring it down into 100,000 words. So all the extra material is being absorbed into the website, but I'm hoping as well that just as absorbing old material, I'm hoping to keep the website active and updated.
I should have also explained that the subtitle of the book and website, is 'Resource Depletion, Environmental Crises and Human Rights Abuses in Central America'. It's based very much in Central America, and one of the 10 major chapters refers to the violence of Central American society, experienced by Central American societies, and in that I deal with the problem of drugs and gangs, discuss various policies, such as 'La Mano Dura' and 'Super Mano Dura', and so on. I look at the work of a number of human rights workers around the region – I'm thinking particularly of people like Iduvina Hernández in Guatemala, Bertha Oliva in Honduras, and various other organisations which are human rights protectors or defenders. So it's in that context of that particular chapter, in which I want to interview you, or get a few words from you, about your thoughts and opinions on various policies associated with those policies, but also with the problems of drugs and gangs and so on. So first of all, I wonder if you could tell us who you are, how come you're down here, how long you've been down here, and about the work that you do at the moment and have been doing for some years now.
Brian Rude (BR): Okay, well I'm Brian Rude; I am here in El Salvador.
[Change onto second recording]
BR: I've been here [El Salvador] for 25 years, I came as a pastor from the Lutheran church in Canada, I am still a Lutheran pastor representing not the national church, but the Alberta and the territories senate, one of five regions of national Lutheran church in Canada. For the first five years I was working directly with the Lutheran church in El Salvador, with Bishop Medardo Gómez. Since 1994, I have been a bit more independent and working primarily in prisons. We started as an HIV/AIDS awareness accompaniment advocacy group, at a time when that wasn't happening, there wasn't much available in that area, through 'FundaSida' and [0:52 require verification] AIDS team. Together, we launched a programme in prisons, starting at the end of 1994 and then in 1995 with a pilot project in 'Mariona' prison and 'Ilopango' prison, the main male and female prisons, and then from there have expanded around the country. So I'm still in prisons, although the focus, well it includes HIV/AIDS, but with the UN on for aids and malaria and polio is it? I don't know. But anyway, a lot of money was available and a lot of people were interested in working in that area. So we shifted a bit to focus on violence reduction, always with a mental health perspective, whether it's HIV/AIDS or violence, working with groups of inmates primarily, but also prison personnel, 20 to 30, sometimes 40 individuals in a group, facilitating self expression. So we have weekly sessions of two or three hours, and encourage them to explore their own experiences and communicate those with others in the group, through dialogue, tutorials, one-on-ones, or sometimes they write up their experiences, draw their experiences, or even act out their experiences, in pairs, or groups of three, four and five, or the whole group – it's a very dynamic, interactive kind of methodologies we use to encourage them to tell their stories, which is a surprise to them, as nobody has been interested in their stories ever! So this is a new experience for them and they're very eloquent and very artistic, very gifted, in terms of drawing and acting, and they have a lot to say; they have a lot of life in them.
MM: It presumably helps then quite a lot to express them?
BR: Yes – very much so, they're very enthusiastic. They are there voluntarily for the most part, and always ask for longer sessions and more sessions, and modules are usually about two months on any theme, whether its masculinity or sexuality or addictions, or whatever, and they always want to extend those. Then we train some of them as co-facilitators so they can repeat the experience with other groups, or in other prisons in fact, as they move around from prison to prison and we meet up with them in other prisons, we've tried to cover most of the prisons in the country on a rotational basis, so a couple of years in each prison and move on, and then we'll come back. Over the years, a lot of our focus has been on gang prisons, the last couple of years, three years, since the gang truce went on we've focused on the non-gang population or the non-main gangs, and some of the smaller gangs and former gang members are in these prisons, so we have contact with gang members still. But yeah, they're so easy to work with; it's very encouraging to be part of their world.
MM: Can I just ask you about, again, it'll be opinion based – don't worry, you can say exactly what you want – about the truce as you've just mentioned it, the truce between the two majors gangs, whether its holding and I would imagine you would be well placed to gauge whether it is holding or not, and whether it will hold, and whether the current propaganda in the newspapers against the truce is valid or not. So just your opinion on that, and the truce and all aspects of it.
BR: Well the truce, well March 9th actually, was just during election weekend two years ago actually, the municipal elections and legislative actions, when the truce surprised us all basically, and the murder rate dropped from 14 to five or six a day over election weekend, and we thought maybe that they were just so busy voting that they forgot to keep up the murder rate! That helped for days and days, and I think it was El Vado [verify 5:13] with some explanation that was denied by some, and acknowledged by others, and still today we're not quite sure which version is correct and who's behind it, and who's supporting it, or whether it's best for the country, or to our detriment, and so that's being debated. That was part of the campaign for this election. From what I understand, I haven't worked quite as directly with the gang members over the last couple of years, from what I understand they're behind it still, they back it, and they make sure it's in place. For them, it's a truce between two rival gangs, major rival gangs, and they've made some promises to the population, for example to not recruit students in school spaces, so the population should be more at peace. From what I hear generally, is that extortion perhaps hasn't been reduced in the way the population might have expected, so people still feel threatened by that, especially those in small business, medium business perhaps, large business I don't think is affected by this, but that's their survival, they say they need that to survive and I can understand that in a sense, in that Canada it's the government that collects taxes from business and distributes that as the population needs it for education and job creation and so on, that doesn't happen here. The illegal tax rates are very low, I understand in comparison to Latin American countries.
[Change onto third recording]
BR: Tax evasion is huge. I understand from [unverifiable 0:06] for example, that tax evasion is about 30 times more than the total extortion rate, and the government says, and the candidates claim that the government can never negotiate with criminals, but in fact they are because they negotiate tax rates, and working in prisons I've never seen a tax evader, evidently they have a different set of laws and standards. So the youth criminal element is worrisome, it's not healthy for the country, but that's their way of survival and the impunity. I mean they don't enjoy the impunity that the business sector enjoys or even the military enjoys. I mean the military is protected from international occurence for what was done 20 to 30 years ago during the war, so impunity is alive and well for certain sectors, but not for the youth. The campaign stated that 50,000 gang members had been arrested and in prison, so you know, out of a total of 60,000 I think is the estimate, it's hard to know how many there are.
MM: That's a very high prison population for a relatively small country.
BR: Yes. There are I think 27 to 28,000 prison inmates in the main system, and the space is built for 8,000, and staff are 8,000 I mean there's psychologists, health personnel, everybody attending to inmates would be able to attend adequately to 8,000, not 28,000 and 10,000 are gang members I understand, from both major gangs.
MM: Presumably a proportion of those – I don't know whether it will be high – but presumably they would be in simply for having tattoos and without any other charge, is that right?
BR: Yes, illegal association is a justification for arrest and imprisonment, and so a lot are in for that, and that can be interpreted very vaguely. I mean, a group together could be charged with that, and in 2010 the gang prescription law was put into place, which makes it illegal to be a gang member in fact, and doubly illegal to be a leader of a gang, or to work with leaders and promote leadership, which is sort of what we were doing with gangs in prisons, and promoting healthy types of leadership, whilst that could be interpreted as criminal activity! And we didn't want to jeopardise them. We could see one another and around that leaders had been sent to maximum security prisons such as Cojutepeque, which no-one wants to see happen, along with gangs or ourselves so we backed off of that. What the gang truce did enable was media contact – I had sensed a great change in the media approach to gangs, or inmates generally. So suddenly, they shifted from demonising all gang members and youth generally to actually interviewing them and documenting their lives, and that happened for a year until May 29th there was this interview that I guess went over the top, and the two main gang leaders were interviewed and documented in a church, [verify 3:41] Rialto Church, and there's some question about who had allowed that to happen and what kind of security there was. So within the next couple of days, all of the prison authorities had been removed and replaced and the new ones blocked media from prison access. So what the gang members had experienced, well inmates generally because they joined in the evolving peace process the non-gang members as well, so became a change for prison life generally. The phrase that I heard frequently from them was they had been taken into account (tomar en cuenta), which is a new experience for them. For over a year from the March 9th truce until them joining in prison by prison over April and May 2012 and up until May 2013, and June with these changes in policies then they were no longer taken into account, and they were restricted from communicating with the general public and among themselves also. So that could be a factor in not being able to control their own [verify 4:52] Cupca's or members, or neighbourhood groups losing control of the truce to some extent. I mean for the last month we've been told every day that the truce has fizzled and the murder rate has increased dramatically; but official statistics I think that it might have climbed up to 8 [deaths per day] perhaps, which is still significantly lower than 14 – it's not healthy, but it's not like it was. But in the general population in many places it still feels – it wasn't increased to include municipalities also, which were called, well at one point sanctuaries which was a kind of misnomer because it wasn't a place where they could escape to avoid arrest, but they were named municipalities pre-violence. So the mayors, the churches, the gangs, different elements within the community would come together and negotiate how to establish and ensure a municipality without violence. So that happened I think officially in 11 with projections to increase.
MM: What in 2011?
BR: Well no, in 11 municipalities in 2013. So the idea is to expand this to many municipalities.
MM: In reference to a question, another policy, when Funes first came into power there, or relatively soon afterwards, there was an introduction of community policing – I don't know how widespread it was and how intense it was, but there was a policy about community policing which was different from the kind of policing which had taken place before that, but I think this came pretty much to a halt – I maybe wrong on this – two years later or something like that? When the director of police was changed it was really very much under the pressure of the US Embassy as I remember. Now has community policing, first of all started and has it come to an end? As far as you know.
BR: I understand that it is quite successful in Nicaragua, that's often explained as the reason for much lower rate of violence and delinquency and crime in Nicaragua. I'm not sure that it really ever grabbed hold here; there was certainly a change with [Manuel] Melgar was removed as minister of justice, we think maybe from pressure from the US.
MM: That's what I was thinking of. Sorry, I got that wrong, it wasn't the Director of Police was it, it was –
BR: The Minister of Justice, Manuel Melgar. So yeah, there was some change in policy I suppose with him with the old [verify 7.53] … came in and maybe he did, maybe he didn't have some role in promoting the peace process or the truce and the peace process which evolved; he had been head of the military before that, which was responsible for the security in the prisons and inspection of visitors and so on, which was a very unpopular mode of operating within the prisons. There was major reaction against the way the military were inspecting visitors, especially female visitors, yeah there was major discontent. So when the truce happened I mean eventually, the military were removed from that role, which was a major relief for the prisoners and their visitors. So Munguia Payes allowed for the facilitators and Señor Fabio Colindres, the Roman Catholic Archbishop of the Chaplain of the military, and Raúl Mijango a former MP [Minister of Parliament] of the legislative assembly and author, he is an [verify 9:00] … commander also, so the two of them can have facilitated this truce. And the displacing we've had over the years works with a network of organisations in prisons, coming from, you know, different experiences and angles working in prisons, well this network was kind of displaced and these two became the two figures of participation and consultation worked as [verify 9:28] inspirados we thought they might have been but they seemed to have contact with the right people in the right places and so –
MM: This was a reprioritisation of La Mano Dura policy.
BR: Yeah. Although the prescription law is still in place in fact, it was put in place before this in 2010, and apparently it's never been enacted or used in any individual case, but it's still there. I mean if certain judges were to interpret it in a certain way perhaps everybody involved in this truce and peace process should be in jail too, because we've all been enabling gang communication and so on, and dialogue, and so on.
MM: Do you see a future with this truce? Is it likely to last after the next elections, or the second round of elections on March 2nd regardless of who's in?
BR: Well, no I think it, well judging by the campaigning, which can't always say well, which will follow beyond the election, but the FMLN is committed to further dialogue, which was a swear word not so long ago and nobody could admit to dialogue versus the Quijaneros declared war on the gangs, and he's promised the population the right to live without gangs. But I'm not sure where he supposes these gangs have come from because they're part of the population with younger brothers, and even sisters, are eager to follow in their footsteps, and in their socialisation process, so eliminate gangs would involve a lot more than just putting those 60,000 in jail. I mean there's no space for them anyway, but I'm not sure what. So the policy could be quite different depending on which party were to win on March 9th.
MM: Is that the estimated gang population, 60,000?
BR: 60,000 is the figure that's batted around, so I don't know on what basis really, but the claim is during the campaign that 57,000 have been arrested, so I don't know if there was 57,000 different individuals or if those certain individuals have been rearrested numerous times, I don't know exactly how those figures are interpreted. I think a lot of the future of the gang truce depends on financing opportunities.
MM: That presumably comes from the government?
BR: Well, they would have to be channelled through government. Some small business people are setting up workshops and so on, and then training and hiring gang members, so that's a good start but it means it's much larger than that. The European Union I understand has been offering money to promote this, but I don't know if any of that money has been received or implemented – somebody might have it in banks, so we never know what happens to foreign assistance of it, but I think that would be an important part of it and fiscal reform I think would be an important part, like you mentioned the taxes would have to be collected from business and used for the population, which would be a major bonus, to enable all youth to have opportunities and education and jobs.
MM: Is it the lack of opportunities which is really one the sources of gang membership, isn't it?
BR: Right – so survival is up to them, they have to look out for themselves and they've developed their own society, their own creative – or not so creative – ways, destructive ways of doing that and ensuring that, not only for the 60,000, that would be their families, so we could be talking about half a million people affected or supported by extortion.
MM: Okay, well many thanks for that. Would you like to say anything more on the topic of gangs? One thing I haven't mentioned or asked about is the problem of drugs, and is that really, does it overlap closely with membership of gangs very much associated with drug dealing in El Salvador? It's supposed to be in Honduras and Mexico, and would you say they are closely associated in El Salvador as well?
BR: It's hard to say. It's often assumed in the media that it is the case, or some politicians think that's the case. There's been a surprisingly low number of arrests or drugs found, I mean it's one element in some arrests but prior to the truce, it was sort of common understanding that La Zeta the drugs cartels of Mexico and through Guatemala and Honduras were trying to control the gangs, and if that were the case I mean it was surprising to me that there was enough autonomy within El Salvador to declare a truce and enact the truce overnight. With influence from Los Angeles or Mexico or Guatemala, it just seemed to be a more national phenomenon. So I'm thinking that maybe the drugs aren't as big a part of the picture as sometimes we're led to believe, though I have no way of measuring that. In terms of drug usage I understand that the gangs are quite strict in term of controlling, well alcohol use, drug use and consumption around their own members, so they can be very firm and disciplinarian among their own members. So really I can't say anything for sure.
MM: Okay, never mind. Would you like to add to any other comments?
BR: Well from my experience of working in prisons, with inmates generally and gang members particularly, I find that if you treat them as human beings, they respond as human beings every bit as warmly, as affectionately and as respectfully as anyone you could expect. I mean I've worked in churches all my life and I don't hesitate to say that they're as human as church people, so –
MM: If you brutalise people they will turn out to be brutal.
BR: Totally – if you demonise them then they will respond in that fashion, so if they're taken into account, then they can persue positive ways in society, and so we've had nothing but 19 years of positive experiences from working with them. I guess I'm, you know, as a international working here, I'm not subject to having my business distorted, or my family threatened or my kids, you know, pressured into gang membership at the schools, so I'm a bit sheltered I suppose, but I'm not too naive!
MM: Saying you're sheltered by working with gang members in prisons is very paradoxical somehow. Well anyway, thank you very much indeed. That's been really helpful for me, in trying to build the website, and the book of course, in getting words, receiving words of people on the ground who are involved in whatever it is I happen to be asking about, whether its agriculture, power generation or prison service and so on. So it's really useful just for your information, in 2009 and 2010 I was over on both years for 4 months conducting a whole load of interviews, and we must have about 70 or 80 interviews altogether, and although in the book I've been able to pick out a few words here, a few words there, and a quote on the odd occasion, all of those interviews, in both Spanish and English, will appear in full on the website – so this will appear in full on the website, so thank-you very much indeed.
BR: Well thank-you Martin for doing this and to your audience to, for the interest and support.
MM: Thanks a lot Brian that's great.
END