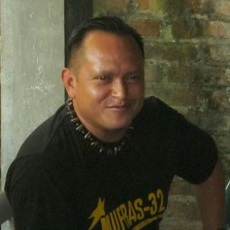 Interviewee: Hector Garcia Berrios, lawyer and member of the National Roundtable Against Metal Mining
Interviewer: Martin Mowforth and Lucy Goodman
Location: San Salvador, El Salvador
Date: 22nd and 23rd July September 2010
Theme: TBC
Keywords: TBC
Notes: Translations of two interviews. Interview A was carried out at a demonstration outside the Canadian Embassy, San Salvador. Interview B in San Salvador, 23 July 2010.
.
A)  Demonstration outside the Canadian Embassy, San Salvador, 22 July 2010
Hector Garcia Berrios (HB): Right now we are protesting here outside the embassy and we want to deliver a letter asking the ambassador that she uses her good offices and withdraws companies of Canadian origin from our country and that she does not sign the free trade treaty with Canada because this opens up a legal space for them to sue. That's what we're trying to achieve this afternoon.
… a community of Cabañas. We've got up to the … but we met with security forces of the National Civil Police (PNC) and private security which protects the embassy. We've been there trying to deliver it. It's been difficult. Even a PNC official offered himself as an intermediary and to take the letter. Seeing that we couldn't get in on either side of the building to get to the embassy, we decided, with the people who are here below, to provide the letter to him. All the embassy did was to put their stamp on it and the one who went in was the chief of security to deliver the document to the PNC who were mediating. They didn't receive us. If only we might do the same when they arrive with their machinery – not to receive them when they arrive in our community and environment. I think we're going to leave here in a moment. They've just told us that we will be informed that the letter was delivered. The only thing that the embassy did was to put its stamp on it, and they didn't receive us, despite which … But what we did was make sure it got there through a PNC intermediary. They say that they will communicate with … and when they are going to receive us. Many thanks.
They leave us hanging here. Our objective is to deliver it and to make a presence and at the international level today there are activities at other Canadian embassies. People from different countries are demanding that the ambassadors use the good offices of their government to withdraw these Canadian companies which are doing so much damage in Latin America and in my country. Many thanks.
There's a US person who's doing a doctorate in Social Sciences and is nearly finished. He's writing something on the resistance movement in Central America. He brought me a page to see if I would approve it. I told him that in our culture you don't agree to talk with someone because you have a written commitment, rather from whom it comes. One thing you tell me – I know Leslie, and I know Alma and Tirso – they're friends of mine, and they're friends of yours, so we can talk before the document.
Martin Mowforth (MM): It's absolutely necessary to know who you're talking with. I understand.
HB: I want to ask you something. Is it possible to have access to what you're writing in your analysis of Central America? Do you have it in Spanish or just in English?
MM: Most of it is in English. I've got documents not written by me that are in Spanish, but I could send you some documents that I have written in English. Can you read English?
HB: We can get them translated.
---
­­­­­­­­­­­­­­­­­
B)  In San Salvador, 23 July 2010
Martin Mowforth (MM): Let's begin with yesterday's protest. Can you tell me the major points, the contents of the letter that you were trying to deliver to the Canadian embassy?
Hector Garcia Berrios (HB): Yesterday the Resistence was celebrating across Latin America the Day Against Open-Cast Mining. So we thought it was opportune, since across Latin America there were different actions at Canadian Embassies, that likewise we would get mobilised and present a letter to the ambassador asking that she uses the good offices of her government to withdraw from our country those companies of Canadian origin which are dedicated to mineral exploitation. So that is one of the objectives. The other was to ask her to intervene with her government to stop them signing the free trade treaty with Canada, since it creates a space for the different mining companies operating in the country to make claims against us if we do not grant them mining concessions here. So it violates the principles of sovereignty and self-determination of our native peoples. In that sense, we were looking for the ambassador, as you realise, but they didn't let us enter, they kept it closed and placed a security detachment there.
The objective was this, to link together the different actions which were taking place at the Canadian Embassies. The Canadian ambassador did not want to receive us; in fact she takes a very hostile attitude towards us. Amongst us there were people who have wanted to go to Canada to talk on the issue and how it's affecting us, and all of us in Latin America who are denied visas to travel to Canada. As if they have a register of all of us. A little while ago various colleagues from the National Roundtable Against Metal Mining, which is composed of several social organisations, amongst them ours which is called the Francisco Sánchez Unified Movement … 32, CEICOM (Research Centre on Investment and Commerce) as well, where David (Pereira) is; and all the people who came from Cabañas to apply for a visa for Canada – and none of them were granted. In the United States one of our colleagues managed to get one for three days. Maybe Canada has a more antagonistic attitude towards us, despite which they are getting very strong opposition in our country and we know that the ambassador has lobbied with high officials such as ministers and the president, to get approval for the authorisation of mining exploitation. So yesterday we also requested that she intercede so that they withdraw from here.
MM: What´s the current situation in the courts in the case of Pacific Rim against the government of El Salvador?
HB: When the current President Mauricio Funes publicly declared that he was not going to authorise any further concessions for mining exploitation, Pacific Rim changed its strategy. It took its claim to the International Centre for the Settlement of Investment Disputes (ICSID by its English initials), with its roots in the United States, for 77 million dollars plus legal costs, a total of 100 million dollars. Pacific Rim is a Canadian company. They weren't able to make a claim against us because we weren't contracted to them by a free trade treaty. So what they did is look for US financiers who opened a small office; they allied themselves with them and said: "Good, as the United States has a free trade treaty with El Salvador, we can make a claim against them because we have US associates. So they claimed against us, the tribunal was already set up and was made up of three referees and the ICSID: one from the World Bank, one from the company and one from the state of El Salvador. That was two to one, so that´s already a difference. But more than that, they have presented their grievance (that the state of El Salvador is supposedly doing by not granting them concessions) for the profits that they were supposedly going to make in return for their investments.
Despite what they've done, we believe that there are enough differences in their stances, because one thing according to Salvadoran law is that you can start the process of exploration, but that doesn't necessarily oblige the state of El Salvador to grant a license for exploitation. In international law there exists the precautionary principle that can be used when the supposed development may cause damage to the ecosystem. So at the moment they are presenting the cases, and the state of El Salvador is making its own.
As a social movement we have brought over specialists to talk about the case, to raise awareness and to get more information, but also we are making ourselves available to the government of El Salvador , so that if they wish we also have various lawyers and we could collaborate with them.
MM: Are you expecting the verdict in September?
HB: No, it opens another stage. What happens is that the process of arbitration is a long process, it can last a year, a year and a half – it goes through various stages. They get to know the case, and then they pass judgement.
MM: Another thing very political and sad is the case of the assassinations which have happened during this year in Cabañas. I think there were three.
HB: There were five assassinations from June 2009 to December the same year.
MM: One of the criticisms of Pacific Rim is that they haven't put out any statement about these assassinations. Have they said nothing about the assassinations?
HB: No. A little while ago the Canadian Senate sent out a call for Thomas Shrake, president of Pacific Rim, because Professor Steiner, who came here like you researching, he went to the Canadian Congress and presented a report on the damage which the company is doing. They sent out a call to the President of Pacific Rim and he came down and denied any link to the homicides and the acts of violence and held ADES responsible for these kinds of events. He [Shrake] said that officials of Pacific Rim had been trained to show a profile like that of Mahatma Ghandi and that it's us who have generated the violence against the company, damaging and holding up the development of the country. He used very aggressive language in his speech, very violent; he directly accused one of the NGOs, ADES (Association for Economic and Social Development, Santa Marta), which has opposed the mining project and which has prepared and informed the people about it. ADES is one organisation which has worked for environmental protection and the unconditional respect for human rights.
I've been one of the lawyers who have been investigating the assassinations, not only that but also the profile and nature of how the environmentalists were assassinated. The department of Cabañas, where Pacific Rim works, was considered until 2008 the most peaceful of the Salvadoran departments. El Salvador has 14 departments. Morazán is the most peaceful department, and with fewest deaths, followed by Cabañas, in fact it only had 188 police and few or minimal resources to cover the whole department.
When Pacific Rim was publicly notified that they weren't going to get the license for gold exploration, it changed its strategy from one of buying the good will of politicians, mayors, deputies, professors, local curates, to one of international claims against the state, but it ratcheted up the pressure against the social movement. A little while ago I was in Mexico with a group of scientists from the National Autonomous University of Mexico (UNAM), studying the mining process. I've had the opportunity to be in various countries studying this and you get to realise that there now exists a new modus operandi amongst the companies. They said delegates from Canada …. that for example there exist companies in Canada in which they create people who work in favour of mining to be able to …. First, they do a socio-anthropological study of where they are going to set up their installation, but more than that they have a designed structure for which they begin to contract, after the anthropological study, people from the community who are less scrupulous, like their employees, and they buy the will of people like mayors, deputies, businessmen, curates, pastors, professors – as has happened here – so that they manage to get into the community. And that is what they are doing here: they began to buy all the people. Why? Because they are damaging institutions – for instance, they pay for all the fiestas, the drinks are free, they finance the cars for the mayors, they pay for the police service's end-of-year parties. So when they begin to generate pressure, our institutions begin to feel the pressure and they begin to criminalise social protest. They begin to persecute young people who are against them and we begin to see harassment.
In fact, there is no end of cases that I have. The Inter-American Commission for Human Rights (IACHR) has given me precautionary measures – they asked the Salvadoran state to guarantee my life because of the assault on my house. After that happened to me, they assassinated Marcelo. Later the level of violence began to rise.
At the moment, the Attorney General says that all the homicides which have been committed against environmentalists are the result of common delinquency – that's the hypothesis they hold. Why do I not accept that? I don't accept it because I've studied them case by case, and the hypothesis of the Attorney General of the Republic is deficient and contradictory.
In the specific case of Marcelo Rivera, there are contradictions in the way and the time that Marcelo was assassinated. The attorney told me, "Look, Marcelo was assassinated with some blows from a hammer, they beat him up, they hit him on the neck, they emptied a pistol into him, and they threw him away. Because of his sexual preference, he was going out with some young people, and then they got the idea to kill him, and so they killed him." In our investigation we have verified that effectively Marcelo has two linear wounds, one of 10 cm and one of 7 cm and 1 cm wide. In the forensic medicine report it appears that these wounds were made post mortem, after death, or maybe when we were taking him out [of the well], because the fire brigade didn't want to take him out, as they did with a stick. It's that that caused these wounds, and it's a lie that it was done with a hammer as the Attorney General said. It's not a bruised blow. If it had been with an armament, the pressure would bruise and it would create a hole. So there is one contradiction.
Another is that they say that he died on the same day. When we took his body out – because we were the ones who took it out – he had been dead for a little more than 72 hours. Marcelo disappeared on the 18th [June 2009] and we took it out on the 30th which means that he spent around 11 days alive. So you begin to see the contradictions, not in how, but in depth. All the witnesses are going to attend an audience at the special court on Wednesday. The Attorney General's hypothesis is based on a witness's opinion because he wasn't there at the time of death, only that he saw that Marcelo was there and that there were those youths there. So, with that they resolved it all. But people told us when we were investigating, because the police didn't do any investigation, that they watched when they tied up the place and that when we got there, they [the police] moved off to the mountains or the woods or the canals, and when we got to the other place they moved again. We had witnesses who told us how much was paid for his assassination and the weapons which they used. We have all that information and we've given it to the police and the Attorney General's office and they haven't looked into any part of what we've given them. There are testimonies from someone who was with the people who assassinated Marcelo Rivera which tell of how they tortured him, how they pulled out the nails of his hands and of how he was sexually abused. He had a nylon tied here, on the finger, and they passed it through his mouth, his neck, they broke his windpipe and threw him down the well. When I say to the attorney how is it possible that you tell me that he wasn't tortured and that what we are saying is a lie, how is it that you have the hand? They tell me: what happened is that the gang members wanted to tie him up and that he was already so rigid that they couldn't tie him up, and so they tied only one hand. But it seems contradictory to me that if they tied one hand, why didn't they tie the other? Marcelo was strong, very strong and big, so they only managed to tie one hand because he must have fought like mad. He was very strong, I know, with a very strong character, he wouldn't let things like that happen easily. But it all happened. We knew where they had gone to throw the evidence of the rope, the shoes, the knapsack, and where he was. We've given it all to the police and they didn't even go to collect it, or rather they weren't interested in making any in-depth investigation.
But before this for almost three months, Marcelo had been on the receiving end of a campaign by the mayor of San Isidro, José Ignacio Bautista, because of his sexual preference. From the town hall came news sheets saying that Marcelo was a homosexual and about his sexual preference, and these went around all the population. In the government office here, in ConCultura, I had access to some records which monitored Marcelo Rivera and myself up until 2007. He was the director of the Casa de la Cultura and had a thick file in which the mayor had tracked us for years in different political activities and through our writings, on headed notepaper he was sending reports of our activities.
When I told the intelligence chief of the PNC, Howard Coto, about this type of situation and about the proof of the monitoring and intentions with regard to Marcelo Rivera, he told me that as mayor and as police chief, they could do those things. How could he tell me that? Marcelo had nothing to do with the mayor who is one of the greatest promoters of Pacific Rim and Marcelo was one of the people who had represented the resistance, and institutionally Marcelo did not depend on the mayor. But, more than that, we managed to get the mayor to withdraw the taxes that he had imposed on the town. We closed down a landfill site which mayors of right and left, the nine municipalities of the department, along with those of San Vicente, had managed to reach an agreement on so that it would make a 500 meter straight line from the Río Titihuapa, which provides all our people with bathing and food, because people don't have access to water, they only have it in pipes. Marcelo and another group of people managed to stop that.
Marcelo was a very charismatic person. He celebrated Mother's Day; he celebrated Children's Day; he always dressed well; he was the first to get a library in the town, there was nothing there before; he was the first to create a NGO called ASIC, he was its director and he ran it. Marcelo didn't harbour bad feelings towards anyone; so he was well settled. With him, we began green journeys. … We are in a department of ideology and law, and it's from there that we began to form a strategy to resist the company. Whoever decided to assassinate him knew what he was doing. I think they not only wanted to assassinate him but also to send a message about what was going to happen. But after it had happened to Marcelo, they detained a few gang members and said that they were responsible for the murder.
When we present all the details of the assassinations, nobody takes notice, nobody considers them. What happens is that also lately a campaign has started against all the young people at Radio Victoria who are fighting to denounce this. They approach them in their houses, they leave anonymous threats, they say they are going to assassinate them. There's a priest, Luis Alberto Quintanilla, who is also in the resistance, and they tried to kidnap him, young people with M16 weapons. He threw himself into a ravine at night and managed to flee after an anti-mining event.
They began to threaten us, to make telephone calls saying they were going to kill us, but nobody paid any attention to it here. Up to now, the Attorney General's office hasn't given any response to the threats. Who assaulted me? To know who fired on my house, to know who took away all the information that I had, I don't know – I've never received a response.
In August, working on Marcelo Rivera's case and having been denounced, a person close to the rightwing ARENA party called me from the town and told me – he called Miguel Rivera, Marcelo's brother, and called me and said, "I'm going to give you a piece of advice. Get out of the town because it's been agreed that you or Miguel are going to be assassinated during the holidays." He told us who had been at the meeting where the agreement was made that they would assassinate us. Talking with Miguel Rivera I said to him, "look, first what they want to do is to scare us, they want to put the fear into us." Anyway, effectively at the beginning of the August holidays I came here on the 6th August because my wife and daughter are here. On the 7th August they tried to assassinate Ramiro Rivera. Oscar Menjívar, a promoter of the mining company, put a shotgun to his back. He's still at liberty because in the hearing where he would have been jailed the victim couldn't attend because he was assassinated a few months after the first attempt. The judge said there was no evidence and so he remains at liberty. That's the way things are here. Everybody knows who killed him, everybody knows who fired the shot and who works for the company. So, he remains at liberty.
Subsequently, on the 20th December 2009, Ramiro was killed. He had two special police with him from the witness protection squad, but on arriving at his house in Trinidad he was ambushed with shotguns and heavy weapons and they shot him. The police failed to react.
MM: What happened with the police?
HB: They had to defend themselves and fled because the firepower that they had wasn't a match for what had been mounted. But also it was known that there had been threats against all of us and they took no protective measures. They gave me no security and that's because I put it to the director of police that they leave me to choose my own security. They told me no, … If I had moved to 17 police from the police district of San Isidro, how am I going to be able to trust that you can give security? So no, the OAS resolution (through the Inter-American Commission for Human Rights) says that my security has to be agreed, but they haven't wanted to agree. You can verify that in the Chancellery, you can talk with the lawyer David Morales who deals with international matters and you can see that it is the case that the PCN [National Civil Police] won't allow us to choose our own security.
MM: Have you received many threats?
HB: We've received various. There are people who give you a call like I told you. He said to me, "go away because the decision has been taken that they are going to kill you." The PNC chief in San Isidro, the new chief after transfer, called and told me, "I want to talk with you." I knew him because I was a member of the police … as a member of the FMLN I entered the police force, so I know many policemen. He said to me, "I want to talk with you. I've been meeting with the mayor and a town councillor. It surprised me that the mayor has said, "the problem here in the department was you, and that if they neutralised you the problems here would be resolved." So when they said your name I was shocked," he told me. "Effectively it was the mayor who was asking that they neutralise you." So the same institutions which informed me have made the call for me to be neutralised. I don't know what a neutrality is, or how they can neutralise me, by cutting out my tongue, or by nothing less than eliminating me.
On the 26th December they killed Dora [Sorto], fifty metres from a police post. She was the wife of Santos who is part of the resistance against the mining in Trinidad, where it's on another range of hills. When you begin to check all this in an holistic way, you realise that we are all environmentalists fighting against the mining company. Today they tell you, no, it was that this family and that family were hating each other, they've had problems and they killed amongst the family.That's what the police say in the case of Trinidad. But they don't tell you that they are working for a company, which is Pacific Rim, and that they oppose it. And that someone said, give them the money and give them the arms so that they can kill each other.
But this hasn't only happened here. In Guatemala, more than 45 environmentalists opposed to mining have been assassinated, three attempted assassinations of the Minister of the Environment; in Mexico, at the same time as they killed Marcelo here, they killed the Mexican resistance leader, Mariano Abarca Roblero – hitmen on a motorbike that were working for the company assassinated him – the company was Canadian; a little while ago they killed Bety Cariño in an ambush similar to the one in which they killed Ramiro. So, there is a modus operandi of Canadian companies to intimidate and to generate violence and terror, in order to achieve their objectives. [Difficult sentence to translate.]
I was with US embassy representatives here – he was called …???… and was a human rights representative. He told me, "prove to me that the company knows about it, because it could be that the company doesn't know about it and that maybe it's their employees, that the company is clean, and the company has the right to take strategic measures with its officials." That's the stance of the US embassy. I said to him, "the company is an abstract form, they are legal forms. What you have to investigate is who is behind these things, who has so much power, and who has interests in carrying out this type of project."
Who do we have behind it? Fidel Chávez Mena, ex-Chancellor of the Republic, his son, the President of the Pacific Rim company. Who else do we have? The brother-in-law of the ex-Vice President of the Republic, Ana Vilma Escobar, who represents the Poma Group, a very powerful business group at the Central American level. Or maybe, who has interests in carrying out the mining activity? That's what you've got to investigate. Why don't you open the files? And get to who is paying them so much money.
I have information about a man called … – let me remember – he works for Jim McGovern the US Congressman. He's been working and monitoring the cases of impunity in Latin America, especially in Central America. Well, he called me and made contact with me. He told me, "from the sub-director of intelligence of the state we have information that the company is making large disbursements of money and it does it through various roundabout ways, through subtlety and by underhand means. I gave all that information to a PNC intelligence chief and I made sure that it got to the state intelligence chief. The only thing that they confirmed is that effectively there was a very strong link between public officials and the company, but that's how it remains; they won't let us see what more has been investigated."
I think that there's more, because these are structures that can function, that can only function, in corrupt institutions and in an atmosphere of impunity. That's what's happening in this country. Jim McGovern came here to investigate the case of Marcelo Rivera and one of the things that he said is that this is a fireproof case to demonstrate that President Mauricio Funes is fighting against impunity. But until Wednesday when we have the hearing, regretably the Attorney General has investigated nothing, and he has brought a legally very weak hypothesis. So what is that going to allow? That impunity continues or that the material authors of these crimes remain free …? We are faced with this – they try to say that they were isolated elements and that it's just common violence. How strange is that? We all live in Cabañas and we're all against the mining and we are all threatened and they tell us that they are going to kill us.
There's a resolution from the Human Rights Attorney in which it is required that they investigate seriously and in an holistic way the context in which all this violence is occurring. Why have they not done it? Who are they protecting? Who has Pacific Rim given money to in the country? I could tell you who it's been financing, it's given funds to powerful politicians for their electoral campaigns – we have the names of who it has been promoting. Politicians, deputies, and mayors working more as promoters of the company than anything else.
MM: One thing I want to expose in the book is the culture of impunity. It's a huge problem in Guatemala, Honduras and Mexico, and in El Salvador too. One last question: we've recently heard from the mining companies, and specifically Pacific Rim, about the concept of green mining. Could you comment on the use of this idea by the companies?
HB: To me it's offensive that they try to cheat the people. Green mining does not exist. It was something that they created here in this country, trying to deceive and to say that in Cuba, Venezuela and Bolivia there was green mining, so why couldn't they do it here? And the big idea is that they contaminate and that they extract a large part of the soil and sub-soil and then they put it back. That's the whole hypothesis that they put forward. Green mining is a fallacy – there's only one type of mining. The chemicals that they are going to use, like mercury, cyanide, lead, cadmium, are going to contaminate the surface, the sub-soil and the water. The conflict in this is that it is a lie that there exists development through these companies. These companies respond to international interests in a context of megaprojects, where they develop dams, mining, the infrastructure from the north, which are large projects that belong to the government of the United States, via the World Bank and the IMF. They pressure the governments of Latin America so that they become a part of globalisation and market expansion in order to guarantee their own interests of the USA, Canada, England. These companies come to take our strategic resources. From 100 per cent of their profits they leave only 1 per cent in the local area and 1 per cent for the country – it's offensive.
So, such mining doesn't exist – it's a lie. They have tried to take our people by surprise. As of today, I don't know of a mine that does not contaminate.
MM: In San José, the capital of Costa Rica, there are advertisements on the screens in the buses from the company which is trying to extract the gold of Crucitas. They have publicity campaigns to present themselves with a clean image, which is an advertisement of about one minute and which says 'Green Mining for Costa Rica', 'Mining, helping the people of Costa Rica'. It says it many times. I haven't seen a mine that doesn't pollute anywhere in the world. It's incredible that they can use the term 'green mining', around which they've designed this campaign.
I sent Leslie nine files from this chapter on mining, a little before she left the country. I could send you the same files, but they're in English.
HB: I could add that El Salvador is the only country in Latin America which has stopped a mining exploitation project. There's no other country which has stopped and which has managed to politically intervene to bring about such a stoppage. That's worth treasuring. The transnationals cannot continue to dominate the market and to prevail over the people. The people must unite and leave aside their divisions and different languages. The time has arrived for us to look after our environment or we are all going to die.
I can't monitor the whole world looking for the things that others are doing; we are the same people who have to look after our little bit for present and future generations.
I recognise that part of the most important thing that we have managed to do is to have an influence in strategic sectors which can then influence other sectors, like the church and potential presidential candidates, and through the process of discussion and education with the communities. Thanks to that we have been able to stop this type of project. We've had costs and losses of life, yes, we've had them, but we've also seen international solidarity. The fact that you are here is because at the international level we've managed to make waves and to raise consciousness a little about what the European and US transnationals come and do to these people. They've been coming here since long before the present problems, wanting to exploit the natural resources of these communities for their own ends. And that can't be allowed; we must join our own forces together and begin to work together, and thus we'll have an opportunity to continue living, and our future generations too.
MM: Many thanks for your time and your words. The preparation of a book like this takes a long time, but I'll use your words, but I'll send them to you first to check them with you. After each interview, I get a friend to transcribe them, and of course I only use a few words from each interview; but I do want to use the words of Central Americans instead of just the words of academics from the north, so that is the motive for carrying out these interviews. I hope the book will be ready in two years.
END