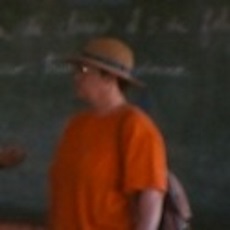 Interviewee: Hermana María-José López
Interviewer: Martin Mowforth and Alice Klien
Location: Guatemala City, Guatemala
Date: 27th July 2009
Theme: TBC
Keywords: TBC
Notes:
.
.
Sister Hermana María-José López (MJ): With Médicos MUNI, as far as health goes, we made an agreement for 2 or 3 years – they made a clinic with both conventional and alternative medicines. We have one sister who studied natural medicine and she trains many women in the communities. And now it's the women from the communities who run the clinic with the alternative medicine. There's a small laboratory and a big room for conferences and work. We've got a laboratory to make micro-doses of pills and a different laboratory to take samples of blood and urine.
We coordinate with other NGOs and groups and we have people who come as volunteers or through other NGOs – for example with ASTON. They do agreements for a year or two. Médicos MUNI make their agreements for two years, so they built an apartment which serves as a hostel for cooperantes [development workers].
Martin Mowforth (MM): Is that the programme of training for indigenous leaders?
MJ: That's the one close to the city and the one that I work on. It's with another congregation. I'm full time with them as a cooperante. It's different from what the group of other sisters do.
Then we have a project of grants for youths – those who receive the grants make a commitment with their community areas. Developmentally and educationally our commitment to the youths is very strong – it's important to have trained and professionally educated people for their work and community. The group with grants is less than it is in Nicaragua – there are about 70 supported youths.
The IGER educational system, which is a Guatemalan popular education project, is in a zone where the Sisters have full responsibility for carrying out the project. They have teacher coordinators, youth coordinators and they have adults who study. Their school-leaving qualifications are validated by the Ministry of Education and they can then go on to university.
Regarding Antigua Guatemala – they have a well-organised system for the reception of tourists, for the cleaning of the streets, for the tourism infrastructure of the streets, and there's no violence – there's nothing like the violence in Guatemala [City]. I've walked around at 9 or 10 in the evening in Antigua and everything is easy, people are in the streets, everywhere is still open, restaurants, internets, cafes. Antigua is very impressive – you can stroll around – they know how to look after their space.
---
INTERVIEW 2: Translation of Transcript 2
MJ: I'd like you to know about our project. Part A is what we're working on right now; Part B is our proposal for workshops. Part A is a bit of history, motivational, which we're currently doing through workshops. Part B is our new work, a bit on the big side, but I wondered if Martin could collaborate with the trainers, which is where we have problems. Each year it costs about $1,200 and we support the person who gives the workshops with about $100. This is in Guatemala.
MM: [explained that the SRF articles of constitution do not allow us to work outside of Nicaragua.]
MJ: The problem for us is that the trainers have to go out from Guatemala City to other places. At the moment I'm using all the fund for material. It's a small fund and it's just that we need funds for the trainers and their work.
MM: [explained re Gangsters and that we have sent the questions to MJ by email.] First, is it possible to define or list the factors which prevent development and the alleviation of poverty in the Central American countries?
MJ: From my experience at the national level, when you see the reality of poverty the development that you can try to create is at a minimum. I've seen development when I've been immersed in smaller, more focussed group; for example, en Colomba here in Tacuca, the Sisters work more directly with small projects like those that you know in Nicaragua. So we see the people generate their own process of development at a minimum level but with hope for the good of their children. When you organise a limited group, say of 15, 20 or 30 families, you can see a bit of development …, so that the conditions of health and nutrition improve for the women and education for the children.
In Colomba, the Sisters have an alternative clinic with projects for making soya bread and alternative medicine products, and they've created a community organisation. There are 200 women organised in this project. It's not just one of the Sisters' projects, we also cooperate on it with social organisations – it's not just our work. But we give accompaniment with the work and it gives a bit of hope in the long term.
If you measure the reality of poverty and you want to see results in a year or two, I don't know whether we would see any change.
Guatemala has a huge problem in that its wealth is in the hands of ten families and it's these ten families who influence the government. Before the signing of any democratic law it passes through this group of families: businessmen, military personnel – it's a social group which here we refer to as the bourgeoisie – it's very strong and the politicians make agreements and alliances with these families. At the national level we are dominated by this group of families, and right now with this situation of crisis the issues are getting worse particularly in the cities where the population is now greater than it is in the rural zones. The rural area is not experiencing the crisis in the same way as the urban area.
The current government already knows this and has put into operation its programme called 'Social Cohesion' which is a system of family assistance. It has helped a lot of the population, but as well as its positive characteristics it has some negative ones too. The project uses Lula's idea from Brazil – 'Zero Hunger'. Nicaragua has a similar project called 'Zero Famine'. Here the programme is directed by President Colom's wife and for this has faced severe criticism. The president's wife here is holding political office without having been elected by the people. For me, democracy here is very difficult to understand – that is to say, she is someone who has not been elected by the people, so politically she should not have any authority. She is Sandra Torres.
MM: In England we have a similar system – the House of Lords. It's well established in our political system – none of them have been elected.
MJ: the Social Cohesion project has three lines: 'the solidarity bag', which includes the basic foodstuffs: beans, maize, sugar, milk and other things which I can't remember. Another line is 'the school napsack', which is for the childrens' schooling and gives something like 300 quetzales to each family.
In campesino areas, the average wage of a campesino is 600 quetzales. So they are seeing that with what the government gives them, Q300 worth of basic foodstuffs plus their quota for the childrens' schooling, this comes to more than Q600, which is the basic wage for picking coffee and working in the plantations or the mines. So this is generating a conflict between the workers, because if the government gives them more money than they can get by working, they don't work.
Others have a more critical awareness – if the government gives me Q600 because I'm not working, then if I am working my wage should be higher than Q600. The Social Cohesion programme is leaning more towards the campesino areas. In the city the problem is different because everybody works in services such as banks, retail, markets, maquilas – many maquilas – and they all earn less than what is needed to cover the basic necessities of life in Guatemala.
Do you know how much the Director of the National Library gets? Q1,300 – 1,400 per month – something like $100 per month.
MM: Less than the 'canasta basica'?
MJ: Yes, less. In my case, I don't get much, but wherever I go I have my car and I can buy things … When I go out of the country, my commitment is that I pay. But compared with a Director of a National Library, that is despicable.
There's a very big contrast between the urban area, the campesino area and the indigenous campesino area. It's not possible to solve the situation in Guatemala City at the same time as the campesino area and with the indigenous campesino area. They are three separate worlds. In my opinion, only one thing unites them all: violence, in all three areas.
Two colleagues, one an Italian missionary who had spent 40 years in Quiche province, were assassinated. Supposedly, it was a common highway robbery. There were three missionaries. Then others, from Germany and Spain who were in Quiche, one in Alta Verapaz and another in Quiche, were also assaulted and robbed. There's supposedly more to this.
MM: I heard of the assassination of four priests in the north of the country several months ago.
MJ: The violence if generalised. Here there is so much social violence in the city. It's not a city to walk around in. At 9 at night there's nobody on the streets, and the last bus runs at 6 pm.
MM: It's the same in Tegucigalpa too. But because of the gridlocked traffic the buses finish at 7 pm.
MJ: Guatemala has another problem which is a product of its poverty; that is, emigration to the United States.
MM: And that causes what kind of problems?
MJ: The family remains in debt because they take out a loan for one of them to travel to the States. If they get caught by the immigration laws, they have to return. On being returned back here they take out another loan to pay off the first. So the economic situation gets ever worse. At the social level, it causes family breakdown; the family role breaks down in the rearing of children. …
Then we have human rights violations of all types. There's a strong group working at the frontier, a group here in Guatemala City and another at the frontier with Mexico. There are agreements between the NGOs which are working with refuge houses for emigrants, at least seeing that their human rights are not violated. It's called 'Human Mobility'. It's very interesting because they analyse all types of human mobility, and within the broad group they have found that there is not only movement for work, but that there's also a lot of trafficking of persons, especially women, who are deceived. The woman says, 'Is there a job?', to which they are lied – and it later turns out to be prostitution. The data show that there is also beginning to appear male prostitution, where before there was none. Right now it appears that within this trafficking of people there is male prostitution and child prostitution, the majority being children.
Alice Klein (AK): Is there prostitution in the city?
MJ: Well, above all it's at the frontiers, but it's also in the cities.
MM: Because there are loads of lorry drivers there – that's where the clients are.
MJ: It's by the frontier roads where there are lots of drivers. The network [of traffickers and trafficking] has been discovered throughout Central America. Sister Rosario was in a meeting about human mobility in Costa Rica in which there were groups of people making presentations about the work of 'Human Mobility'.
Other people enter and chat.
MM: Can you tell us a little about the programmes of the nuns?
MJ: Our mission has similar characteristics to others throughout Central America. We always work with the most impoverished populations, those with very few economic resources. Our idea is to look for alternative solutions to situations of impoverishment or to situations in which people cannot live a dignified life with their rights. So we work on projects such as agricultural development – crop production or cattle ranching – health and education.
Where we work here in Guatemala is in the rural areas, with the impoverished, the campesinas, which is different from Nicaragua. In Nicaragua, they at least own their land; here where we are the majority do not own their land; here we have only two communities where the finqueros [small farmers] are re-conquering their land, as they call it.
There's one community more developed which for me is an experience. It's like a torch in that it helps us to see what we want for all the communities. They've taken over their lands, and they own their own coffee. Each family already has its own hectares of coffee, but they sow communally. They have a very good organic coffee project. Everything is decided communally, their sowing, their harvesting, their storing. But within all the communities with which we deal, there is only one in this situation. The others are communities of campesinos who are still living in the land owner's finca. So their reality is more difficult. With them we have emergency situations, like Hurricane Stan. The Sisters built 15 houses for these families. Stan was in 2005, and the zone where we work was really badly hit.
END