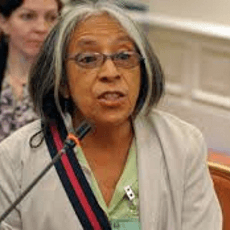 Entrevistadas: Norma Maldonado, member of the International Gender and Trade Network (IGTN)
Entrevistadores: Martin Mowforth, Karis McLaughlin and Alice Klien
Lugar: Guatemala City, Guatemala
Fecha: 27 Julio 2009
Tema: Para ser confirmadas.
Palabras claves: Para ser confirmadas.
Notas: Por favor, nota que la única parte de la entrevista en español fue la siguiente, después de lo cual se llevaba a cabo en inglés.


Norma Maldonado (NM):  Por eso todo nuestro trabajo está vinculado con el Acuerdo de Asociación, megaproyectos, empresas transnacionales, hicimos un tribunal contra las empresas transnacionales durante el Foro Social de las Américas. Hoy antes de venir estuve terminando un artículo para la memoria del Foro Social, que fue en octubre. Entonces hay muchas cosas que tratamos de vincular con el tema de género. Este tema había quedado un poco fuera. Y no porque las mujeres no quisieran, sino porque el tema de la macroeconomía casi no lo manejamos las mujeres. La mujer es de la casa. Entonces esa esfera de la macroeconomía es un poco más difícil, incluso para las feministas, es un esfuerzo de ir poniendo el tema macro entre las discusiones de la globalización, de las transnacionales, del cambio climático. Es un trabajo en el que tenemos que autoeducarnos todavía, por eso los manuales de capacitación para ir abordando esos temas. Entonces, ese tipo de capacitaciones virtuales, Internet para las líderes que tienen computadora y que están en la ciudad, y también para las líderes comunitarias. Yo trabajo en comunidades, con una escuela política de mujeres indígenas.
FIN