By Rita Drobner
January 2023 
In November 2022, the Environmental Network for Central America (ENCA) was invited to attend a roundtable meeting organised by Peace Brigades International (PBI) at which two rights defenders from Central America presented reports on the dangers that they face every day.  ENCA member Rita Drobner attended the meeting on behalf of the organisation and wrote this report for the ENCA newsletter. It is reproduced here with Rita's permission.
It is hard for me to write this up: sitting 'comfortably' at a computer with a cup of tea; nobody is trying to take my life; I have not been threatened or arrested.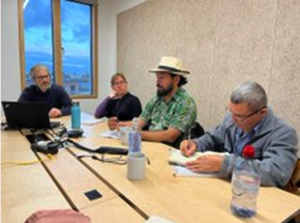 In contrast, these are daily hazards facing Community Journalist Carlos Choc Chub from Guatemala (second from right) and Environmental Rights Defender Reynaldo (Rey) Dominguez (on the right) from Honduras, pictured at a roundtable in London organised in November 2022 by Peace Brigades International (PBI). It has since been revealed that Reynaldo's brother Aly was assassinated on 7th January 2023, along with Jairo Bonilla, as they both attempted to defend Honduras's Guapinol River – read more details of the killings in Honduras in the article preceding this.
"These two young men were founders of the struggle to protect our natural resources from an illegal mine that is destroying rivers in the national park," said Rey. "For five years we've been threatened, criminalised and falsely imprisoned, the only thing left was murder."
PBI fears that the second visitor, Carlos, may also be in danger. He had to rush back to a court hearing on 24th November, where he feared that he could be jailed. He has not filed any reports since his return for "Prensa Comunitaria" the local Maya Q'eqchi' news outlet.
GUATEMALA
"The right to inform and to be informed cannot be infringed. We are living through difficult times in my country, for investigating and reporting on environmental violations, corruption, and human rights violations. Despite this, I am convinced that being an indigenous journalist is not a crime," wrote Carlos last year.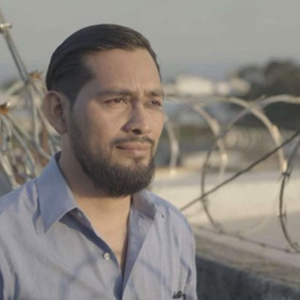 Carlos has faced threats to his life and the lives of his family. Homes in his community regularly get raided and at times he can't stay at home. For Carlos this started in 2017 after photographing and reporting on violent repression by Guatemalan security forces of a demonstration during which an unarmed protester, Carlos Maaz, was killed. The protest was organised by local fishermen against the contamination of Lake Izabal, the largest freshwater lake in Guatemala, by the Fenix ferro-nickel mine.
The journalism network Forbidden Stories took up investigations into the Fenix mine after a warrant was issued for Carlos' arrest and reported that the Guatemalan authorities lied about what happened to Maaz, as well as the environmental contamination caused by the mine.
Further criminal charges of "threats," "incitement to commit crimes" and "illicit association" were brought against Carlos, calling him a green terrorist. A colleague of Carlos quit journalism, whilst Carlos increased collaborations through the journalistic projects of 'Forbidden Stories', 'Mining Secrets', and 'Green Blood', which resulted in coverage by international outlets such as Le Monde, El País, The Guardian and Toronto Star.
Following coverage of further protests, police agents claimed to have been physically attacked and filed charges against Carlos. During 2022, he was forced to stop reporting while fighting drawn out and regularly postponed criminal proceedings. In September 2022, he was declared innocent with the court having found no evidence substantiating the accusations. Despite this, a further court hearing was scheduled for two months later.
Carlos called on the UK government to raise his case with their Guatemalan counterparts and draw attention to the criminalisation against him and other journalists.
The US Treasury Department has since sanctioned the Solway Investment Group, whose subsidiaries operate the Fenix Mine, due to "multiple bribery schemes over several years involving politicians, judges, and government officials". There were also concerns about Russian ownership of the Swiss-based Solway Investment Group.
The company's website claims that the Fenix Project is a socially and environmentally responsible "fully integrated ferro-nickel production facility in eastern Guatemala first developed in 1960. In 2011 Solway Investment Group purchased 98.2% of the project from the Canadian company, HudBay Minerals, and gave a new start to the project." The project has mining rights to 36.2 million tons of nickel ore reserves with 1.86% nickel, as well as the rights to an additional 70.0 million tons of resources. In 2014, the ProNiCo plant began operating, and is currently moving towards operating at its annual production capacity of over 20,000 tons of nickel.
Potential expansion options include the construction of a high-pressure acid leach (HPAL) plant at the Fenix site to treat low-grade laterite reserves with nickel below the current cut-off grade of 1.6%. The website states that the facility's two boilers have been upgraded to expand production and "increase the stability of the entire energy system, while at the same time reducing costs."
However, the Maya community news agency, Prensa Comunitaria, reports that the previous boiler exploded, killing five workers. It also says the workforce fears for their health and safety, and the operation's Russian leadership under Dmitry Kudryakov are not interested in accidents and welfare concerns.
The Toronto Star, quoting Prensa Comunitaria, records that fishermen complain about red slick in Lake Izabal being caused by the mining operations. Villagers observed red smoke emitted from the mine at night. Manuel Ramos Ochoa, a former employee, "At night, they remove the filters, when they are processing their products. They think that people don't see it, and in the end, nobody says anything about it."
A mine spokesperson denied their processing plant ever emitted red fumes, despite photographic evidence to the contrary. Extremely high concentrations of particulate air pollution are dismissed by Solway as "unrelated to the plant" and caused by" road dust, waste incineration in fields and wood used for cooking."
HONDURAS
ENCA has covered the Guapinol land and water defenders regularly over the years: the lows of arrests, disappearances and displacements as well as the highs when political prisoners were released, including freedom for the Guapinol Eight in March 2022 (ENCA 84). However, Rey explained at the Roundtable that the men's names (the Guapinol Eight) have not been cleared and they have not received any official notification regarding their release.
Rey urged the UK government to take all necessary action to ensure that minerals extracted by companies that violate human and environmental rights don't end up in UK markets. 
He told us: "I live in Guapinol, Honduras. Water is Life. Defending two rivers in my community against drying up and contamination is a fair and legitimate fight. Yet, I have been imprisoned for it and the 15 days in a high security facility have been particularly hard."
Rey said that others, including solicitors, protestors' families and whole communities, are at risk. Activists are not sleeping at home.
The new Honduran government of Xiomara Castro raised hopes a year ago when it announced: "The entire Honduran territory is declared free of open-pit mining (…) and will proceed to the review, suspension and cancellation of environmental licences, permits and concessions." Castro promised to reinstate rule of law and to protect human rights and environmental defenders.
Environmentalists praised the government's decision because, despite massive environmental damage, mining produces less than 1% of Honduras's Gross Domestic Product and provides less than 0.1% of employment in Honduras.
However, the new government has not lived up to its promises. According to Rey, civil servants of the previous coup government are still in place and the new government fears a further coup. Business associates of the corrupt ex-president Juan Orlando Hernandez, now under arrest for drug trafficking, are well connected in the USA, in Panama and Europe.
Inversiones Los Pinares (previously Emco Mining) holds the controversial mining concession inside the Carlos Escaleras National Park. The concession has not been revoked, despite 34 water sources in the park being at risk of drying up and of contamination.
In 2018, the company began building an access road to the planned mine inside the park, which it will use to transport iron oxide to a pelletizing plant in the nearby city of Tocoa. The plant, which melts iron with carbon or coke to form compound pellets — part of the steelmaking process — is 99.6% owned by Inversiones Ecotek S.A.
Ecotek is associated with Nucor corporation, the biggest steel producer in the USA, which has built the new Palmerola Airport in Honduras and Munich Airport in Germany.
These powerful business interests have left a wake of people dead, injured and imprisoned. International solidarity is required to support the Municipal Committee for the defence of Common and Public Good (CMDBCP), the only organisation defending the environment in the Bajo Aguán region of northern Honduras.