By Martin Mowforth for the TVOD website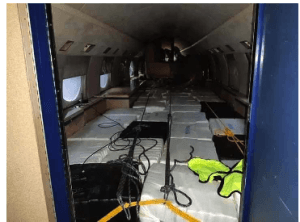 In February last year (2020), Belizean authorities intercepted a Gulfstream II business jet on landing to find it full of 69 bales of cocaine, the largest drugs haul ever made in Belize. (See photo below.) These jets are largely out of service now and can carry a huge payload of drugs. In 2020 four such drug-running business jets were impounded in Belize, but compared with the value of the drugs smuggled and the number of flights which get through, their loss is of little consequence to the cartels. Also a small country like Belize has limited aerial capability to detect and/or intercept such flights.
This year (2021) has seen more drugs hauls which have illustrated the growing importance of the route through Belize. On 14th May Police Commissioner Chester Williams told reporters that they had received a report of a plane landing close to the border with Mexico and "that there were at least about 60 heavily armed men who were offloading the plane and providing security for it while it was being offloaded." Further he explained that "the cargo that came in the plane went immediately over the Mexican side."
With this number of heavily armed men as guards, it is clear that the drug cartels may be more militarily powerful than the governments of small countries such as Belize. The aircraft was moved into the Belize Defence Forces Airwing.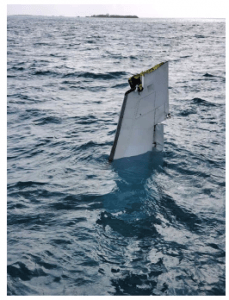 Eight days later the Belize Coast Guard reported that a plane crashed into the sea near the town of Placencia – see photo to the right. The plane was believed to be carrying illegal drugs.
---
 Sources:
Tyler Rogoway, 06.03.20, 'Captured Narco Jet Loaded With 69 Bales of Cocaine I Biggest Bust in Belize History', The Drive.
News 5, 27.02.20, 'Biggest Cocaine Haul in Belize's History is Recorded', Channel5Belize (TV).
Benjamin Flowers, 17.05.21, 'Suspected narco plane cargo unloaded by heavily armed group and taken to Mexico', Breaking Belize News.
Breaking Belize News, 22.05.21, 'Drug plane reportedly crashed off coast of Placencia last night'.