By Martin Mowforth
Key words: decarbonisation; electric vehicles; EV charging stations.
The first two articles in this section of 'The Violence of Development' website (dated April 2019 and March 2020 – section entitled 'Transport infrastructure developments' in Chapter 10) reported on the intention of the Costa Rican government, and especially of President Carlos Alvarado and the First Lady, Claudia Dobles, to decarbonise the country. One pillar of their strategy, for which the First Lady is directly responsible, is their efforts to convert the country's fleet of motor vehicles from oil to electricity.
A report in the Tico Times (an English language online newspaper on Costa Rica) states that the country added 727 new electric vehicles during 2020, giving the country a total of 3,106. 330 of the 727 were purchased by the government and assigned to public institutions.
As the Presidency suggests, Costa Rica is undoubtedly a leader in this field in Central America, and also in Latin America. But the total of 3,106 is only a fraction – less than 0.3% to be a little more precise – of the total motorised vehicles registered in the country.
The intent of the government, however, is shown clearly in the growing number of electric vehicle charging stations which now number around 120 and have a countrywide coverage. The PlugShare website identifies these EV charging stations as shown on the map below.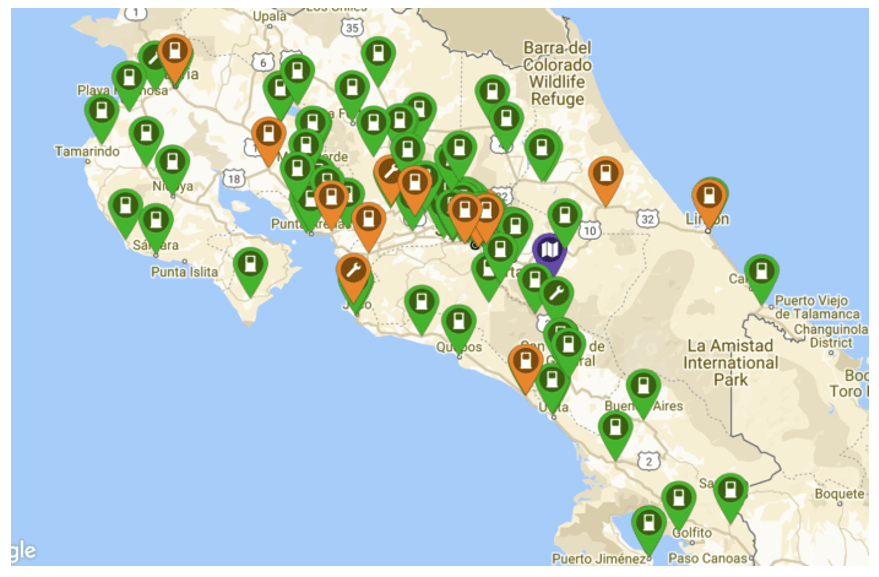 The intent is important and undeniable, but there is a very long way to go.