By Martin Mowforth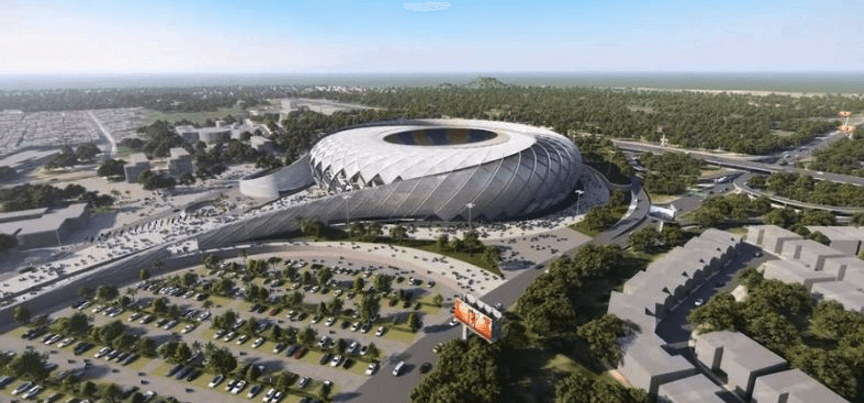 On 30 December 2021 Salvadoran president Nayib Bukele announced on Twitter that a new national stadium would be built in Antiguo Cuscatlán on land currently used by the Military School. He said the construction project would be with the direct collaboration of the president of China, Xi Jinping, although no mention was made of the costs involved.
Bukele indicated that the new stadium would have a seated capacity of 50,000 compared with the old Cuscatlán stadium's capacity of 34,000. President Bukele did not mention anything about the costs of the stadium construction, but it is expected to amount to $500 million (USD).
The Salvadoran Ecological Unit (UNES), however, has expressed concerns about the project. Prime among these are:
The production of a meaningful environmental impact assessment which would ensure that the project was not simply imposed on the people.
The possible implications for water supply and the recharging of the water table – a covered stadium surrounded by a concrete car park will reduce retention and diminish groundwater supplies
The micro-climatic changes of temperature brought about in this area as a result of the building.
Possible drainage and flooding problems in the low-lying area of the affected zone.
Luis Gónzalez of UNES explained that this type of project has often given rise to environmental abuse in the areas affected by these 'developments', at a time when the country has so many other problems that should be prioritised. But he said: "We have a State that is incapable of responding to these needs, but which instead approves laws that privatise the provision of water in El Salvador."
Additionally the stadium will be built in a protected natural area, described as "the last important forest" of the metropolitan area of San Salvador. According to the Salvadoran media, Julio César Acosta, an expert in wildlife observation, says that the El Espino forest is characterized by a great diversity of flora and fauna, including over 150 species of birds, two of which are seriously threatened with extinction: the yellow-headed parrot and the white-fronted parrot.
Construction is scheduled to start during 2022, but that seems especially optimistic given that there has not yet been a feasibility study or environmental impact study.
---
Sources
Karla Ramírez, 30.12.21, 'Anuncian la construcción de un nuevo estadio con donación de China en terreno de Escuela Militar', La Prensa Gráfica.
 Verónica Martínez, 31.12.21, 'Ambientalistas temen daño medioambiental por construcción de nuevo estadio de fútbol', La Prensa Gráfica.
Rafal Zagrobelny, 15.01.22, 'El Salvador: Construction of the national stadium will start soon?' StadiumDB.com