(Have we seen this somewhere before?)
By Martin Mowforth for The Violence of Development website – with thanks to the Committee in Solidarity with the People of El Salvador (CISPES – www.cispes.org) and their newsletters. May 2021
Key words: El Salvador; President Bukele; New Ideas party; democracy; separation of powers; dictatorship; public approval.
If anyone had any doubts about President Bukele's intentions to tear down any government institutions that could oppose him, he made them abundantly clear on Saturday, 1st May. On the first day of El Salvador's new legislative term, Bukele's New Ideas party, which now has an overwhelming majority, moved quickly to illegally sack all the members of the Supreme Court's Constitutional Chamber and the Attorney General, who were quickly replaced in a midnight session.
The decision to remove and replace the five magistrates failed to comply with the constitutionally-established justifications for doing so, and the magistrates were not granted a hearing and defence, as is their right under law.
It is clear that the basis of the decision was to eliminate any institutional opposition and to convert all of the branches of government into instruments of the president. This explains why the same legislators also removed the Attorney General, Raúl Melara and next may remove the Human Rights Ombudsman, José Apolonio Tobar Serrano, who, during the pandemic, denounced widespread violations of human rights and corruption among many members of the Bukele administration.
US Vice President Kamala Harris rejected the actions of El Salvador's President for dismissing his country's Attorney General and Supreme Court judges. "Washington is concerned about El Salvador's democracy. An independent judiciary is vital to a healthy democracy and a strong economy," Harris tweeted.[i]
US Secretary of State Antony Blinken also reacted to Bukele's decision to remove Salvadoran Attorney General Raúl Melara."We urge President Bukele not to interrupt El Salvador's democratic path, respect the separation of powers, defend the press, and support the private sector," he said.
The Committee in Solidarity with the People of El Salvador (CISPES) remarked that: "Condescending lectures from the Biden administration will not impede [these] assaults on democracy; President Bukele and his party are very clear on the type of dictatorship they wish to establish in El Salvador. If the United States government does not immediately act to restrict police, military, and other funds that strengthen the regime, there is no doubt that the United States, too, will be responsible for what follows."[ii]
Meanwhile, as the following table shows, the President's approval rating has remained high since he became president. In all the surveys conducted since taking office, Bukele has received a rating or score of over 75 percent. The table below shows just those polls conducted so far in 2021.[iii]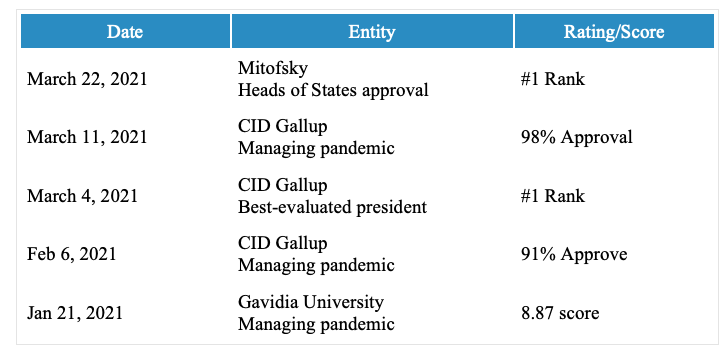 ---
[i]  Telesur (3 May 2021) 'Kamala Harris Rejects Actions of the President of El Salvador'.
[ii]  https://www.cispes.org/article/cispes-condemns-technical-coup-detat-el-salvador
[iii]  https://elsalvadorinfo.net/nayib-bukele-approval-rate/